Lisa Pittarelli & Giggles
SAR Handler & Retired FBI // Retired MWD, NoseWork, Dock Diving, & SAR
"I first met Giggles (aka, Giggles R372) at Lackland AFB, San Antonio, TX, in 2014.

Giggles, a Belgian Malinois, was a MWD and being retired from service. As a retired FBI Agent myself, I thought we'd be a good fit to enjoy retirement together. Little did I know how this dog would change my world. As a federal agent, my career exposed me to the Mal breed and K9s working in bomb/drug detection but never as a handler. So, when I read about Lackland's MWD Adoption program I submitted my application.

Our retirement began with long hikes, agility and lots of socialization. When I introduced Giggles to dog sports, she loved them all; but excelled at nose work and dock diving. We traveled to NACSW Nose Work Trials, competed in AKC North America Diving Dogs (NADD) events and had a great time.

In 2018, we moved to Florida and applied to the local SAR team. We thought utilizing our combined skills could be of service to the community. Giggles & I certified in Human Remains Detection (Land & Water Recovery) through the National Narcotic Dectector Dog Association (NNDDA). We now work with Bay County Sheriff's Office K9 SAR, in Panama City, Florida; involving missing persons, drowning victims, homicide investigations and cold cases. We have also assisted other SAR organizations upon request.

Life with Giggles is always an adventure. Her drive and passion are contagious and inspiring. She loves people and enjoys sharing her story with everyone. Giggles Faves: beach walks, hiking, swimming, kayaking, and dock diving..

In May, 2021, at age 12, we participated in our 3rd US K9 Biathlon, in Anniston, AL. And for the 3rd year in a row, she qualified for the 2021 NADD/AKC South East Dock Diving Regionals competition, to be held Aug. 27-29, 2021, in Perry, GA. Giggles and I are proud supporters of the US War Dogs Association (USWDA), and as a retired MWD, Giggles receives care and medical assistance thru them. Established in 2000, the USWDA honors and provides support to all war dogs, their handlers and adoptive families."

Their Gear: "We love the durability and versatility of Ray Allen's products. We use the ICON Harness, the Kinetic Duty Harness (has survived 3 K9 biathlons), a Herm Springer Prong Collar, many Biothane Leads, the Magnetic Stash Boxes (cadaver detection), and Ray Allen's Dominant Dog Collar."
Submit your K9 Spotlight here for a chance to win next week!
Find our previous K9 Spotlights here.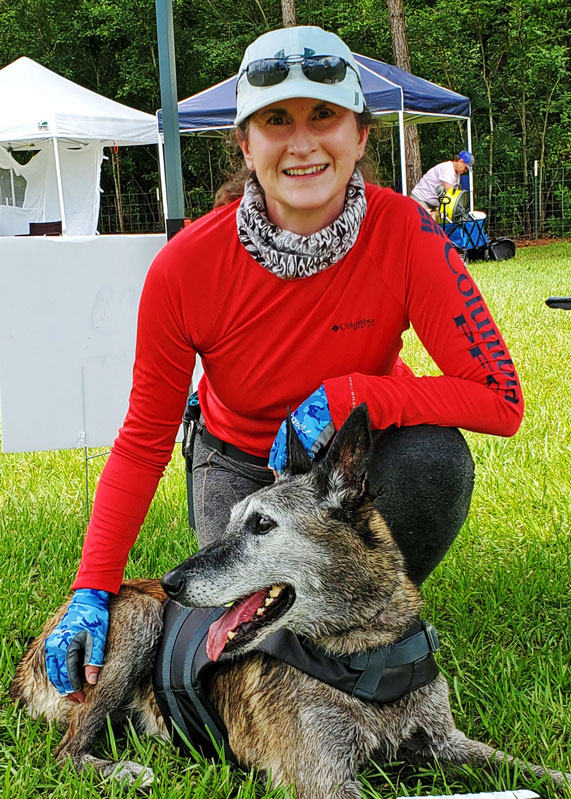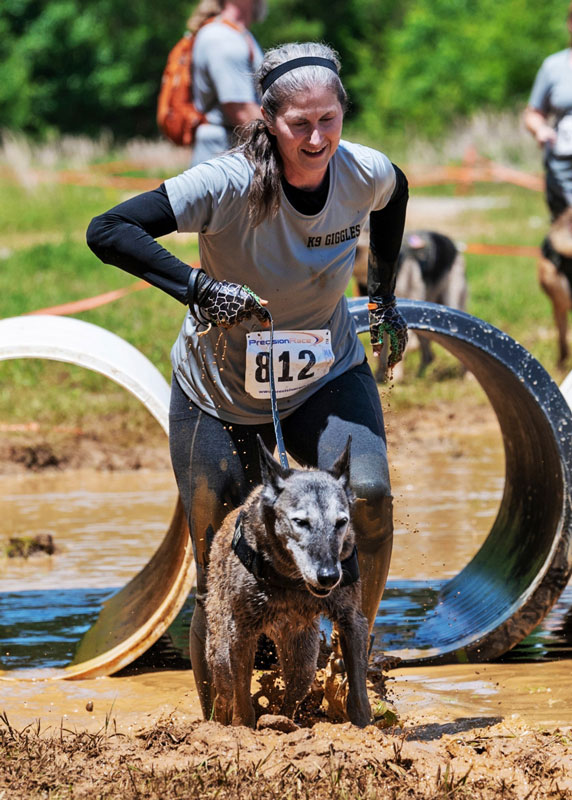 Read More