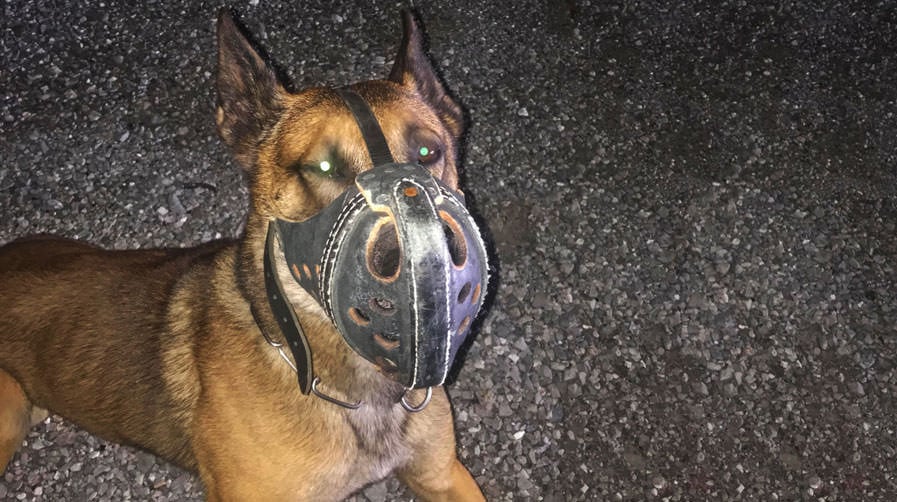 Luke Timmons & Burt
Police Dog Handler // K9 Patrol

"I have been partnered with K-9 Burt for 5 years. We got him green when he was 14 months old and I was involved with every aspect of his training. I am very proud of the things we have accomplished and excited for what is to come.

I have been a handler for 10 years now and if there is one thing I know it's that the more you work with a dog the better team you become. At this point in our journey I feel like I always know what he's thinking and he can anticipate what I will ask of him. I chose the path of the K-9 handler, passing up the Sergeant test 4 times since I've been in the unit, because I like being the team other cops depend on.

One example was a recent call out, where a suspect had fled on foot after a pursuit and we were requested to track the suspect. At the time the suspect did not meet any criteria for a physical apprehension by the dog, so I needed to be able to safely deploy on track, but prevent Burt from biting the suspect. This can be a tricky balance because you have to let the dog work yet keep them under control. I don't like tracking in a muzzle because circumstances can change quickly, so I deployed K-9 Burt on the track, using my 15 foot RAM-Tech leash. I usually like a longer line for tracking because it gives me distance, but I needed to keep Burt a little closer and had to be sure it didn't slip. For those conditions the RAM-Tech was the way to go.

We ended up with a good track about 300 yards long and K-9 Burt began pulling hard towards a large thicket of brush. As I held him back from the brush, and potential suspect, the drive of K-9 Burt nearly pulled me in. Seeing this behavior led me to believe the suspect was in this location but we could not see any signs of a body under this clump. We then circled around, while maintaining cover as best as we could, and I saw an opening and the suspect inside. I called the suspect from his hiding spot as K-9 Burt expressed his desire to meet him, violently. The suspect was taken into custody without injury to any officers or the suspect.

That is how I view my job - to make a dangerous situation a little bit safer. It also isn't bad riding around with a dog in your car. My goals are to keep getting better at my craft and use K-9 Burt to help other officers go home to their families at the end of their shift."

Their Gear: "My favorite Ray Allen gear has got to be the Herm Sprenger Fur Saver and the RAM muzzle.

The Fur Saver is one piece of equipment I always have on my dog. You can use it for corrections or you can use it like a flat collar. I'm also a huge fan of the RAM muzzle. It allows Burt and I to conduct training with passive decoys that aren't wearing any equipment. The muzzle is a great combination of protection and ventilation and lasts longer than any other muzzle on the market, at a reasonable price."

Submit your K9 Spotlight here for a chance to win next week!

Find our previous K9 Spotlights here
Read More