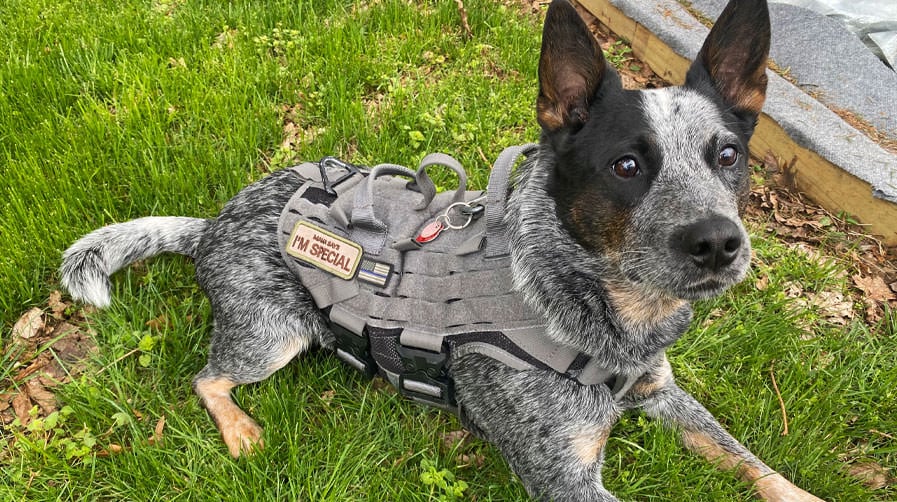 Jonathan & Coyote
Dog Handler // High Anxiety Rescue

"We rescued the 2 year old Australian Cattle dog from a local shelter after hearing the dog's story. It was said that he was living in someone's garage for 2 years, not having much human interaction, which caused him to develop high anxiety with strangers.

My wife and I decided to take him in, knowing the difficulties of an anxious dog. We provided him with a loving environment, constant patience, and as much attention as possible. It wasn't long before he opened up and began to build a bond with us. We are still working on the anxiety; hoping one day he is going to be comfortable around family, friends, and even strangers."

Their Gear: "We have been looking for a harness that would be able to hold him and found a few that all ended up getting destroyed. So I looked for the best harness I could get and I came across the Ray Allen Icon Air Harness. And, this harness is beyond what we expected or experienced from any other harness. It truly is the best, hands down. For one, at first glance you can tell the quality is top notch, and the feel of the buckles ... one heavy duty harness! After my initial purchase, and being impressed, I recently also got the Ray Allen Bomber RAM Muzzle. It didn't disappoint. I love the look and feel of it. Appears to be just another amazing Ray Allen product. Keep up the great work. Looking forward to the next product I purchase."

Submit your K9 Spotlight here for a chance to win next week!

Find our previous K9 Spotlights here
Read More