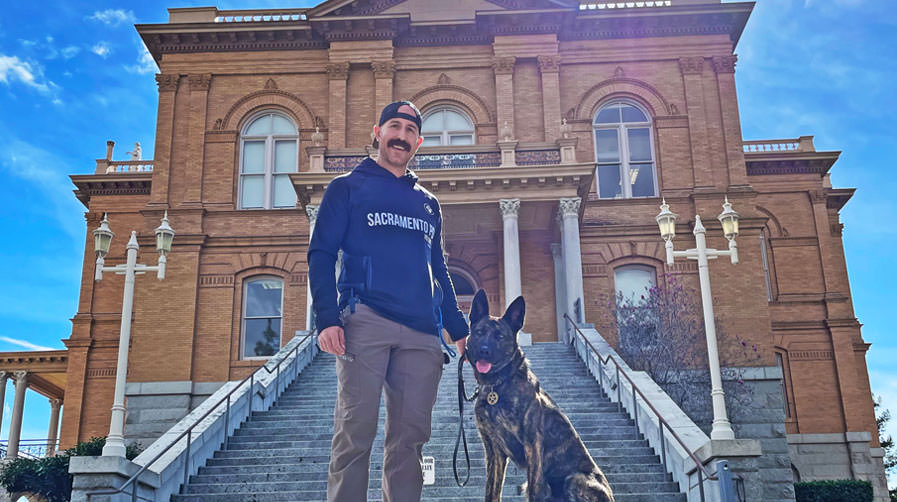 Arian Terman & Ranger
K9 Officer // Patrol K9
"Ranger and I met in the summer of 2020 during K9 selection. He was one of 3 dogs that we tested that day. As the handler who was getting a K9 that day I was tasked with doing everything with the dog including taking him out of his Vari-Kennel that was in the back of our vendor's Ford Escort van. This could be the most dangerous job of the day because you never knew how that first interaction is going to go!

Before I took Ranger out of his kennel, there was a smaller Malinois named Benz that they had me bring out for the first series of tests. "He's probably going to bite you" the dog vendor said. Benz bared his teeth at me and growled as I opened the door, I hesitated just a bit. He nipped me but the second I got the leash hooked up he hopped out of the van and stood next to me. Benz did fine on this first series of tests. I put Benz back and was then instructed to get the "Big Dutchie".

I opened the second Vari-Kennel and Ranger was calmly laying down looking up at me with inquisitive and confident golden brown eyes, there was a warrior's spirit beneath the surface. He sniffed my hand and was happy to get some chin and behind the ear scratches before I hooked him up. He plodded out of the van, slowly walked and circled surveying this foreign place. "He's a wolf!" one officer exclaimed, "That is one Big Dutchie" my Sergeant stated. And they weren't wrong, Dutch Shepherds are typically more compact than German Shepherds, but Ranger dwarfed even larger German Shepherds. At just over 13 months old he was gangly, long and tall but with the frame to support muscle he would later put on during training. He was also the stinkiest dog we'd ever tested, despite the vendor's insistence that he had "just received a bath".

Ranger crushed the entire testing process, being completely undeterred by any resistance, obstacle or environmental challenge. At the end of the day we both smelled like shit but I couldn't be happier that he would be my dog. He was an all star through 2 months of training and made me look like I was an expert even though I'd go through drills like I had two left feet.

In early September we hit the street, and 5 hours within our first shift he was deployed to apprehend an armed suspect after a lengthy standoff. The suspect did everything he could to fight Ranger off but he was no match for Ranger's natural ability and tenacity. Over the next year Ranger helped bring numerous incidents to a resolution keeping our Officers and citizens safe.

Our bond developed quickly and was strengthened by our experiences together during training, the street and off-duty time. At work, we would stroll into the department together (always with one of his favorite toys) and do laps around the station visiting all of his human co-workers. Despite being incredibly fierce and driven in the field, he was extremely sociable and loving and had an excellent "on and off switch" between work mode and home mode. In his mind the stations became a second home and he would brighten many Officer's days that were bogged down on their 4th report after a long shift.

You could say things were going well - the bond being built between Ranger and I - we had hit a groove with work and were excited about a recent move to night shift. Our reality came crashing down in an instant, one night in the fall of 2021. I sent Ranger over a fence to apprehend a felony suspect who was fleeing from his residence. We were able to safely take the suspect into custody however in the process he stabbed Ranger in the stomach, critically wounding him. My shift partner quickly rushed us to the hospital, (to this day some of the best driving I've seen), while I tended to Ranger in the back seat with a trauma first-aid kit we had. The worst thoughts flooded my head and our whole journey together up until this point replayed as I flashed back to that big stinky gangly boy who burrowed his way into my heart two summer's prior.

Once at the vet he was sedated and the work to save his life began. Shaving the entire surrounding area around the wound site, intubation, main lines, vital monitors and an emergency surgery with our revered team Vet being driven in code 3 from his home in the middle of the night. Ranger had suffered a deep stab wound, puncturing much of his abdomen and severely lacerating his spleen. He had lost a nearly fatal amount of blood. As we waited in baited anticipation, and after hours of surgery the Vet team emerged and advised that Ranger was out of the woods. They were able to suture up and salvage his spleen and stem the internal bleeding. I was escorted to his recovery kennel, just in time for a "bad wake up" out of anesthesia as he thrashed around while the vet techs tried to hold him down. I jumped right in and he settled into my lap.

At this point it was around 4am, he continued his recovery in the kennel until the vets were satisfied that his blood levels were recovering and stable. Late that afternoon he was discharged and I took him home. Over the next few weeks he recovered slowly but surely and we received an outpouring of support and love from officers throughout the country, citizens and friends/family. Support which would help mend his wounds and boost our spirits. As we neared the end of his recovery, it was becoming nearly impossible to keep him still and relaxed…. Ranger wanted to get back to work! The vet evaluated his surgical incision, wound site, and his ranges of motion. He gave me the stamp of approval to go back to duty with my partner.

Our first shift back we began with the familiar routine, "You ready to go to work?" I asked as Ranger excitedly circled then sat, ears pinned back patiently waiting for me to put his collar on. We drove in and made it just in time for swing shift roll call at our favorite station in the city. It was an overlap day so there was standing room only. As we walked in, the room erupted in applause. Despite the media coverage that Ranger would receive and the gifts that he would be sent from across the country, that applause from 30 Officers at the North Station will always be one of our most lasting memories of his road to recovery and return to duty.

Now, almost 6 months later, Ranger and I are fully back in the swing of things. Catching felons, searching for guns/explosives and getting pets. He hasn't missed a beat and he is more fierce and driven than ever, but also somehow more sociable and loving. We are excited for the unknown adventures that await for the rest of 2022!"
Their Gear: "The Ultra Kimono Bite Suit. We just got one of these for the team and we couldn't be happier. Ranger has actually bitten through some other bite suits and decoy's had to go to the ER for stitches so we were relieved to see the level of quality and protection that this bite suit provides."

Submit your K9 Spotlight here for a chance to win next week!
Find our previous K9 Spotlights here.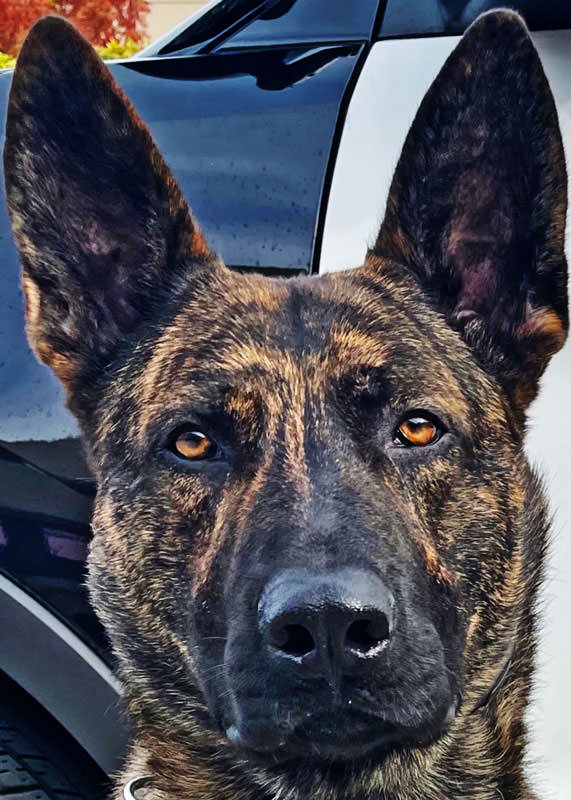 Read More