The next dog harness you buy needs to be durable, comfortable for your dog, suitable for your working conditions, and come with features that meet your everyday needs. The problem is, finding a harness that checks all of these boxes isn't as easy as you might think.
Luckily, our team at Ray Allen Manufacturing is here to help you pick the best dog harness for you and your K9 partner.
While you'll always enjoy peace of mind in knowing that you'll be satisfied with any harness you buy from our store, it's still crucial to find a K9 harness that meets your specific needs.
Check out our top picks for the best dog harnesses for 2023. We're taking into account key features, pricing, and more.
Our trademarked Icon Harness is one of the most popular harnesses in our store for police and military units looking for a tactical dog harness. With 500D mil-spec Cordura webbing and a 2,000-pound load rating, you can trust that this harness will hold up for years in any weather conditions.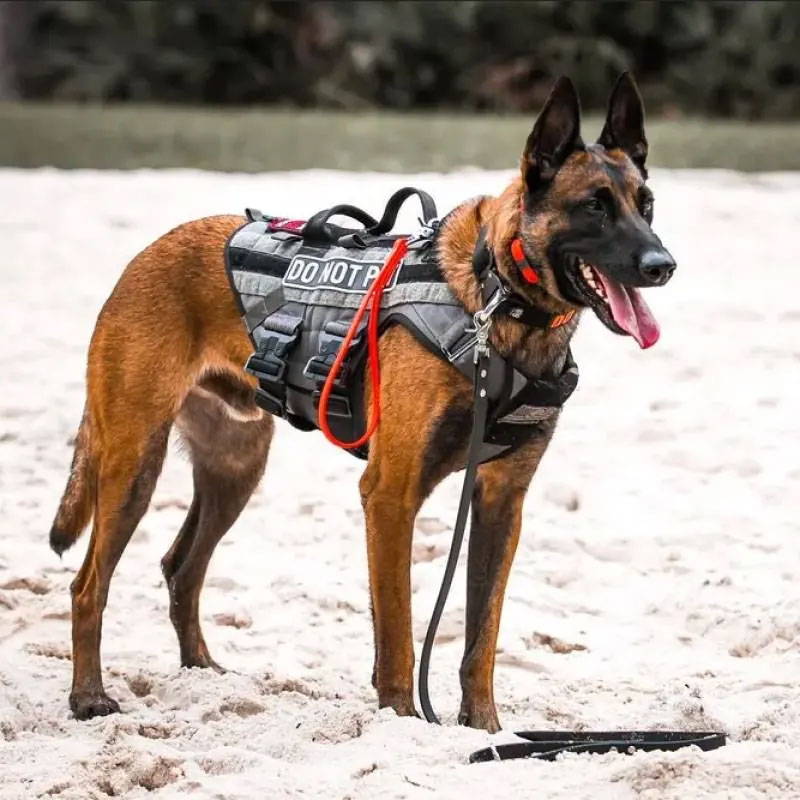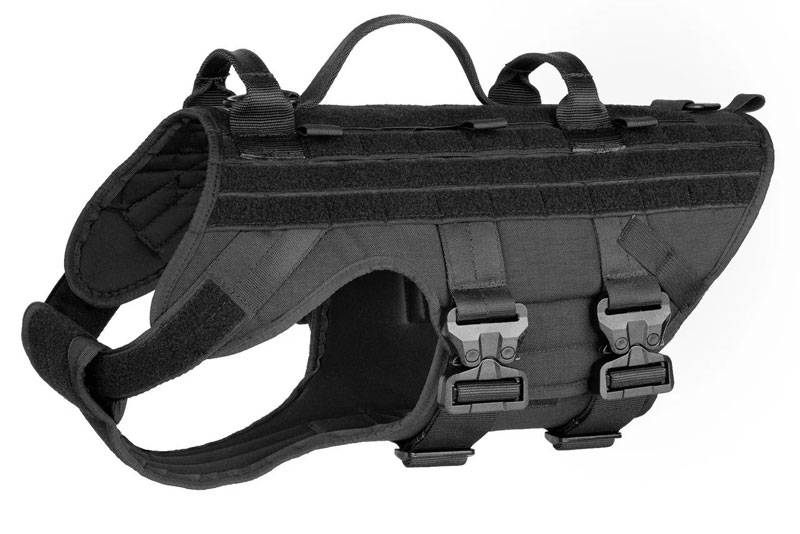 Main Benefits:
Two top handles and a vertical center handle to grab ahold of your dog
Durable GT buckles reduce rubbing and discomfort
Compatible with all of our modular dog harness accessories
Best For:
The Icon Air Harness™ is a rugged, lightweight, and breathable tactical dog harness. Equipped with an impressive load rating of 2,000 lbs., and designed with Mil-Spec Webbing, this dog harness is extremely durable and made to last. Other core benefits include full ID panel visibility (when using the middle VELCRO® strip), GT Cobra buckles, and a wide range of sizes.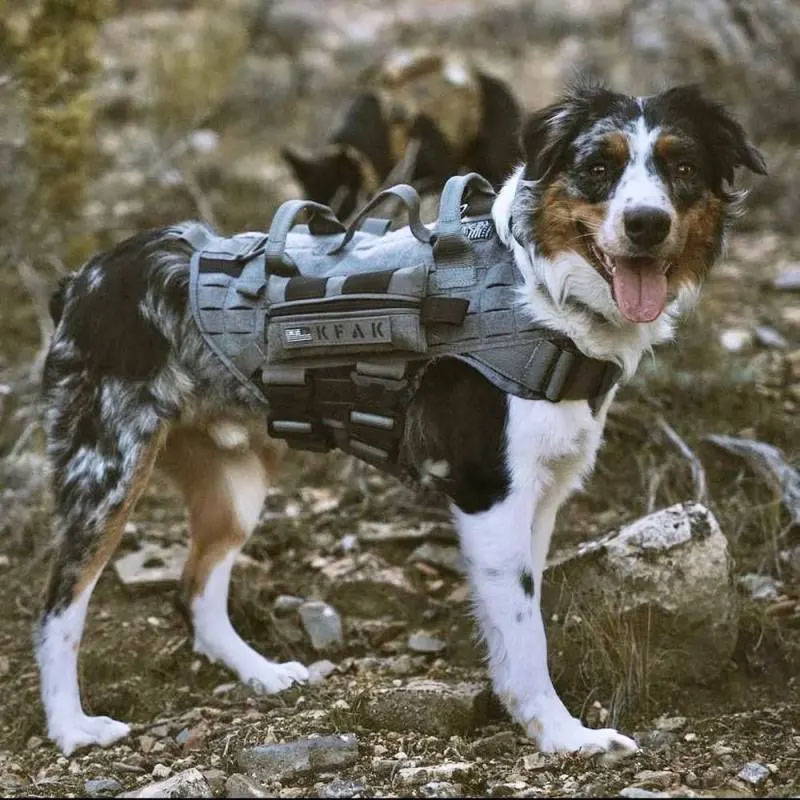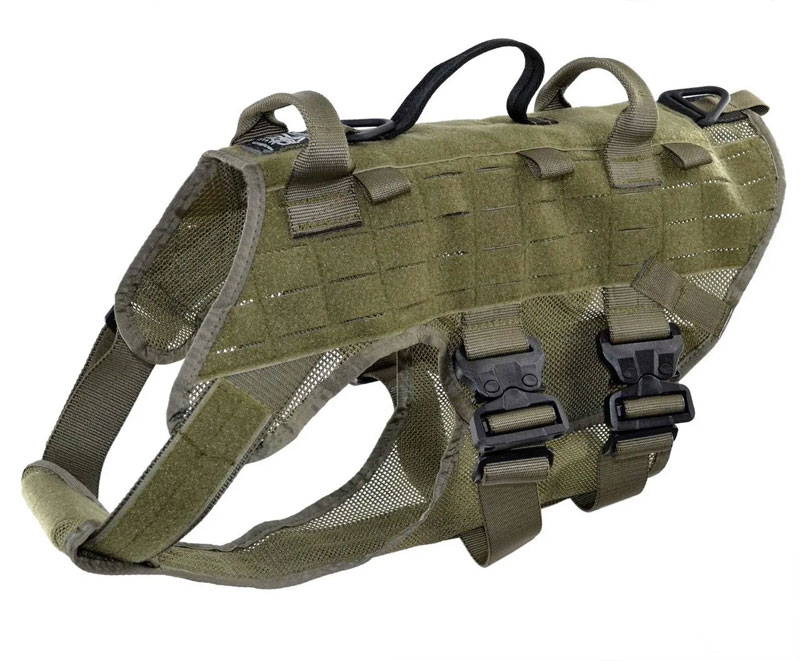 Main Benefits:
Secondary V-ring toward the front of the harness
Comfort, ventilation, and full range of motion for your dog
Two top handles and a low profile vertical center handle for easy lifting, lowering, and rappelling
Best For:
Police and military K9s
Search and rescue work
Boasting a 3-strap system, the Guardian Dog Harness delivers the ultimate in comfort and mobility. Eliminating the common discomfort and breathing restrictions of some harnesses and collars, this design distributes most of your dog's weight across their chest and shoulders. Combined with a removable breastplate, durable type-8 webbing, and ultra-lightweight material, this is one of the most comfortable designs on the market.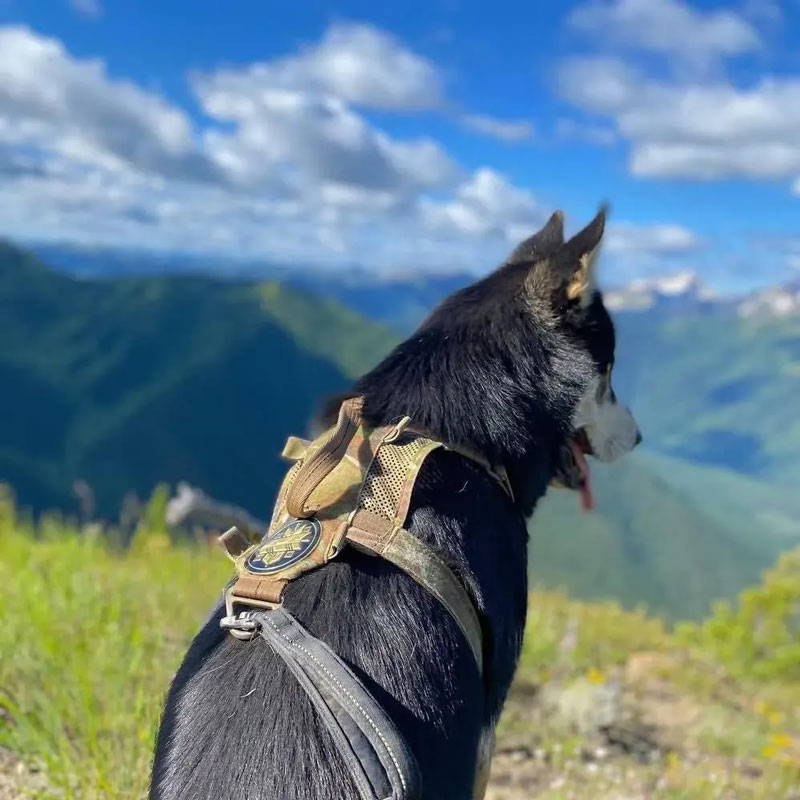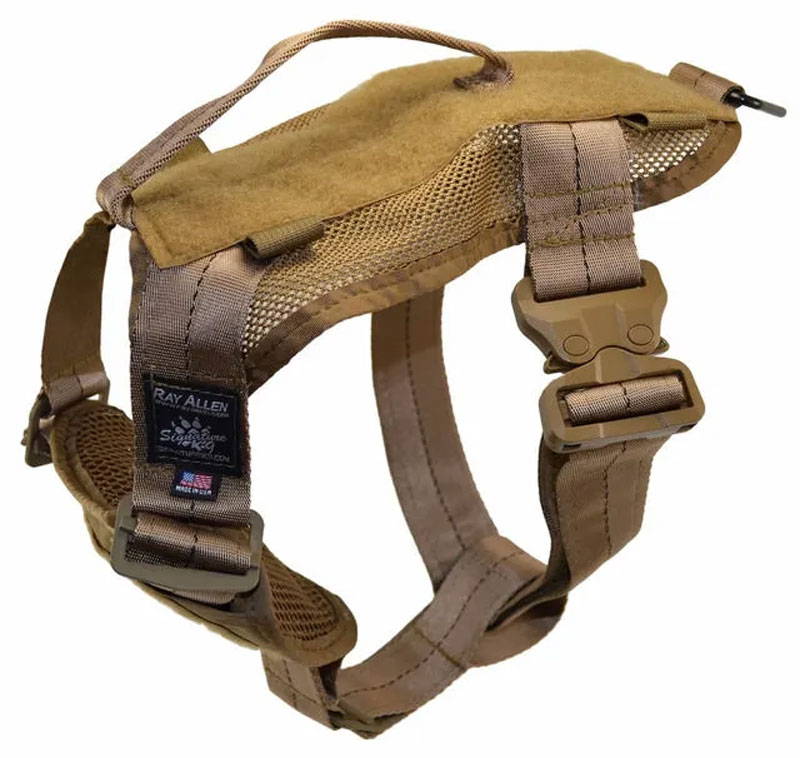 Main Benefits:
Extremely lightweight
Set up to run your tracking line from the rear ring
Compatible with the G-Hook carrying system
Reinforced lift handle
Best For:
Police and military K9s
Tracking dogs
Made from the strongest Northern hide leather available, this Double Layer Leather Harness is created to last a lifetime. Available in sizes medium through extra large, and in two colors (black and burgundy), it is effortless to select the best look and fit for your K9 companion. Adding to the extreme durability of this dog harness is its strong stitching that won't unravel. The Double Layer Leather Harness is made exclusively in the USA by Ray Allen Manufacturing.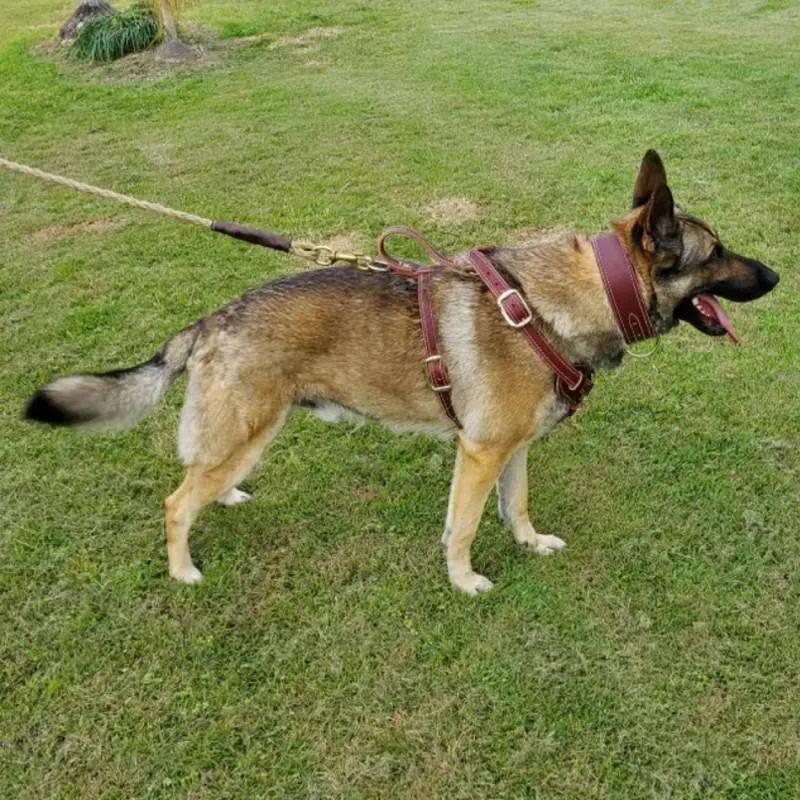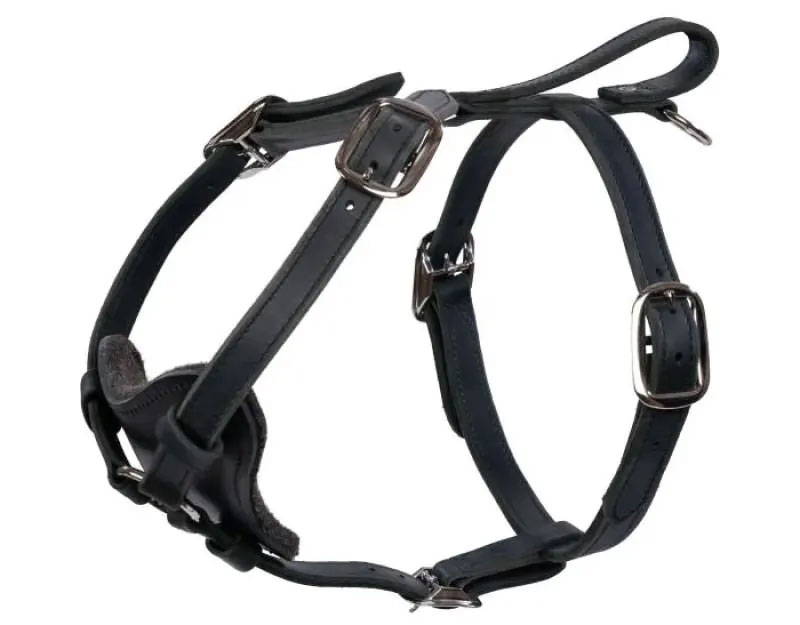 Main Benefits:
Easy-on, easy-off design
One of the most durable K9 harnesses on the market
Front chest pad to distribute pulling pressure evenly
Permits a wide range of motion
Lightweight
Best For:
Competitive K9 sports
Tracking and service dogs
Waterproof and maintenance-free, the Biothane Multifunction Harness is built to withstand the most extreme outdoor conditions. For those who are unfamiliar with biothane, it is an indestructible material that does not crack or stretch, even with repeated use in harsh weather. This K9 harness does not slip when wet and has a non-restrictive fit. For added comfort, the Biothane Multifunction Harness is equipped with a padded leather breastplate, which is both removable and replaceable.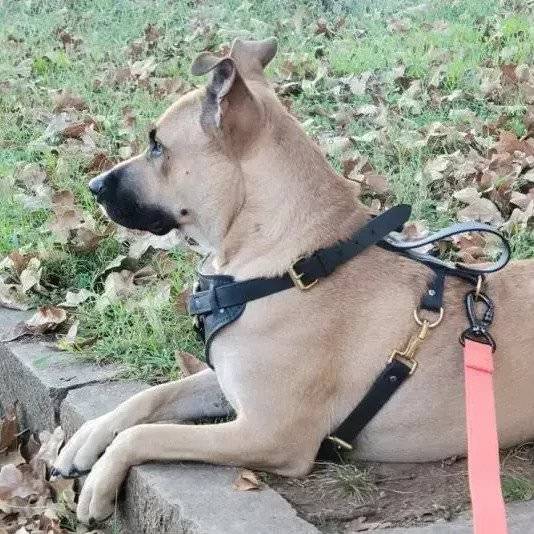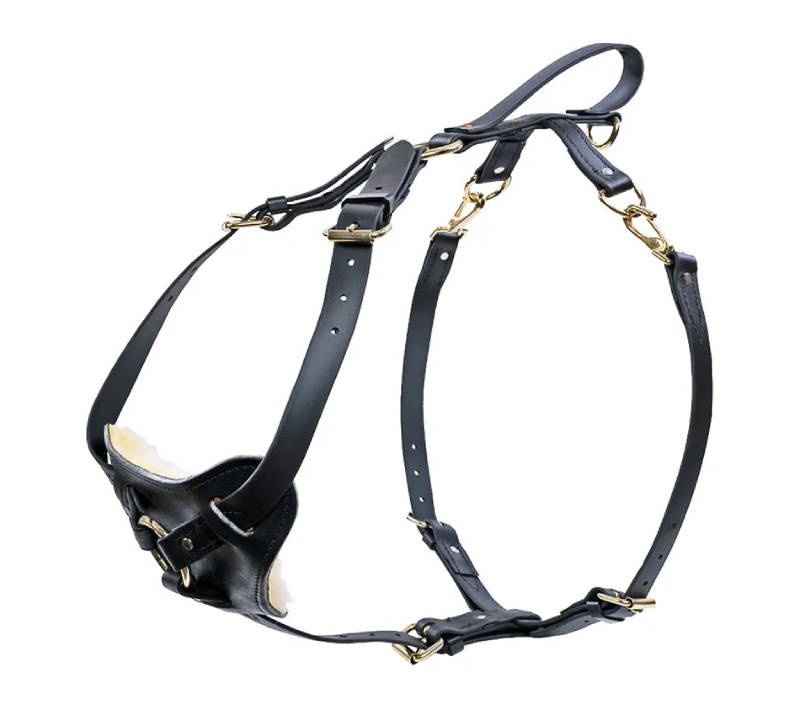 Main Benefits:
100% maintenance-free
Fully waterproof
Made with indestructible biothane
Easy on, easy off
Non-restrictive and comfortable
Best For:
Search trails
Detection missions
Everyday outdoor use
Thanks to its common sense design and features, it is easy to see why the Kinetic Duty Harness has become one of the best-selling dog harnesses at Ray Allen Manufacturing. This lightweight tactical harness never twists or tangles with movement. It is easy to put on your dog, and easy to remove. It is specifically tailored to larger dogs, such as German Shepherds and Labradors, accommodating chest girths of 28 to 36 inches.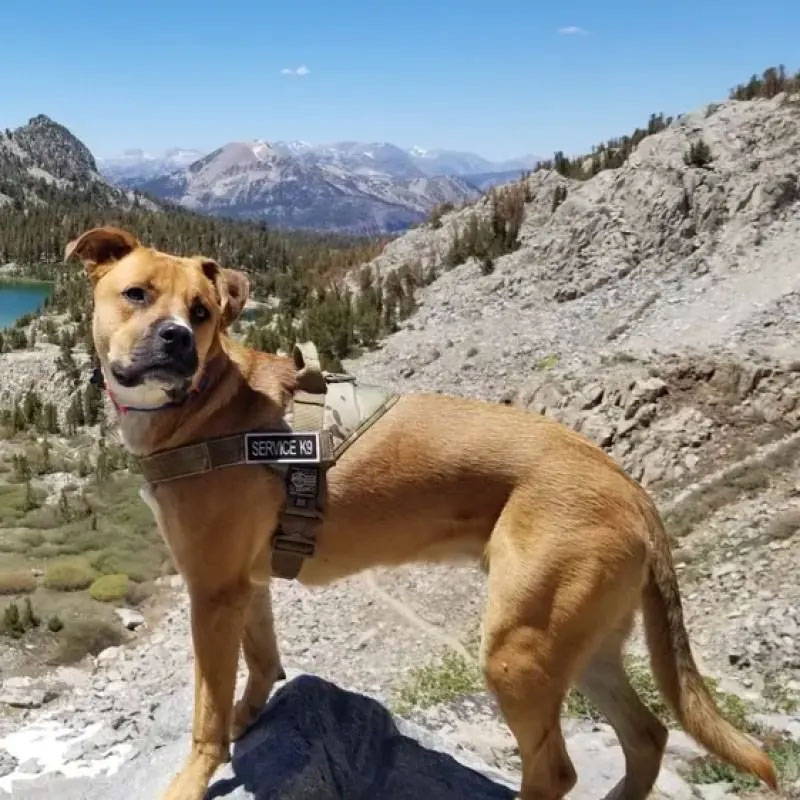 Main Benefits:
Adjustable and made to grow with your dog
Never twists or tangles
Lightweight and padded for all-day use and comfort
Heavy-duty mil-spec webbing
Best For:
As its name suggests, the Ultimate Harness is an all-in-one, best-selling K9 harness. Durable and made to endure the toughest jobs, this best dog harness has a myriad of exceptional features. Its rugged design allows your dog to carry his or her own weight for gear or equipment. Additionally, its MOLLE system allows for the attachment of multiple tactical pouches or packs. Both strong and lightweight, the Ultimate Harness has fully adjustable chest and belly straps, a GT Cobra Buckle, and bar-tacked reinforced handles on both ends.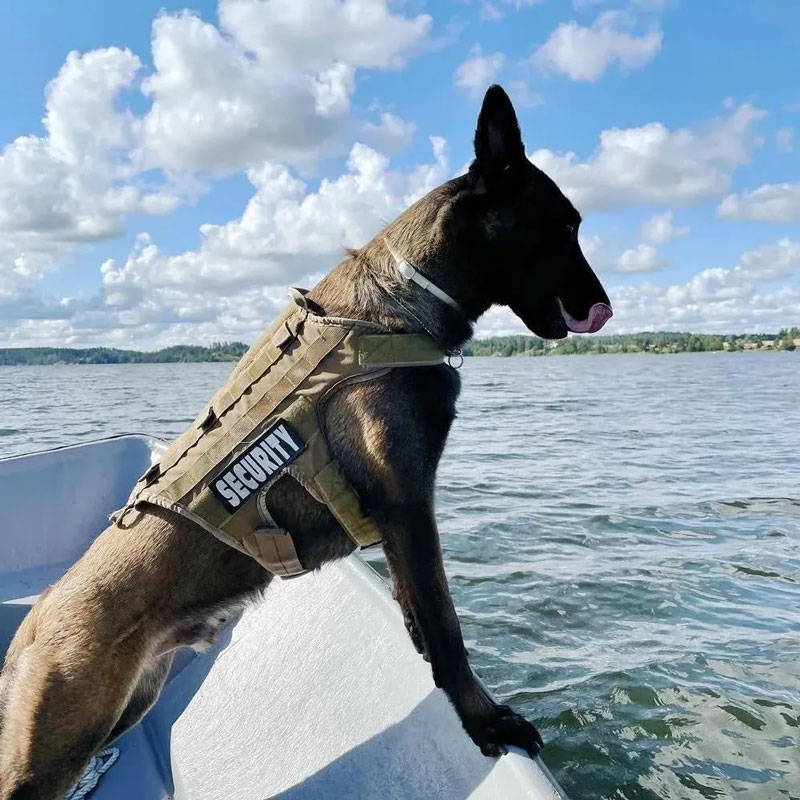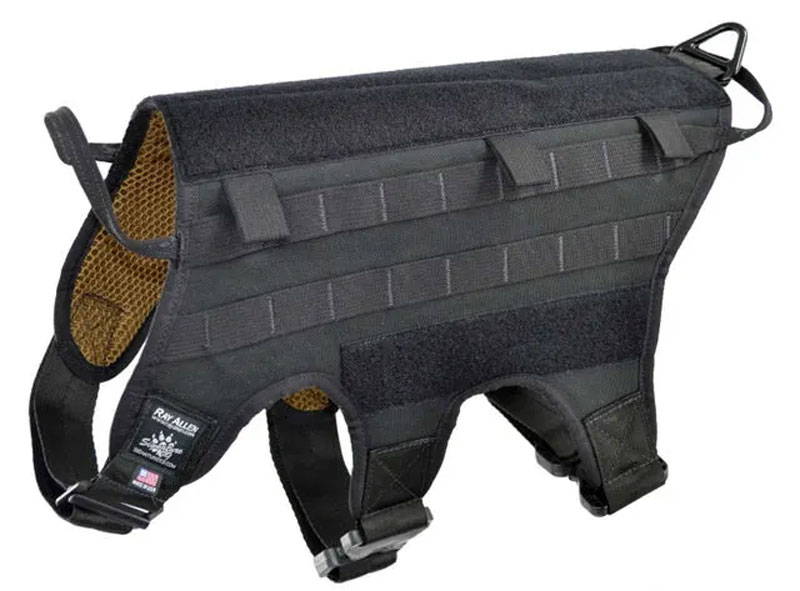 Main Benefits:
MOLLE system allows for the attachment of tactical dog pouches or packs
GT Cobra Buckle load-rated up to 500 pounds
No reduction in movement, even when carrying heavy or unbalanced loads
Best For:
Tactical military K9s
Service and working dogs
Built with the intention of handling a wide array of K9 duties, the Opportunity Harness is an exceptional choice for everyday use. Featuring V-rings on each side, a mounted handle, nylon webbing, and designed to attach multiple types of patches, everything about this dog harness was carefully planned and constructed for the highest degree of versatility and comfort.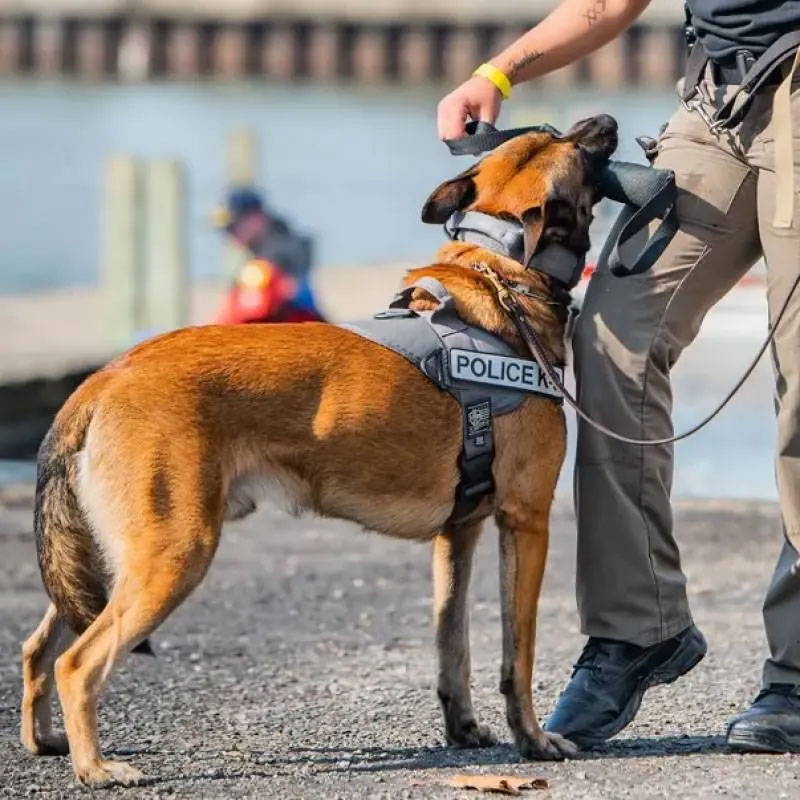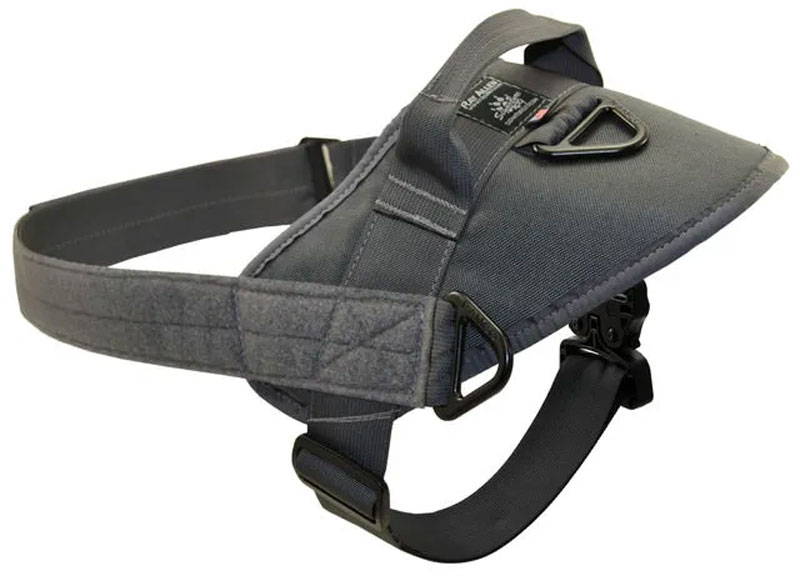 Main Benefits:
Ultra versatile and can be used for a wide range of purposes
Ideal for both medium and deep-chested dogs
Lightweight nylon fabric
Best For:
Service dogs and emotional support dogs
Police work
Tracking dogs
Handlers who are in search of an exceedingly durable K9 harness should explore the many features of the Extreme Harness. Made with a 500-lb load-rated polymer buckle, a secure top-positioned V-ring, and T13 load-rated nylon webbing, this model can handle anything you or your dog throws at it. From bite training sessions to intense search and rescue work, dogs fitted with this harness experience maximum mobility and all-day comfort.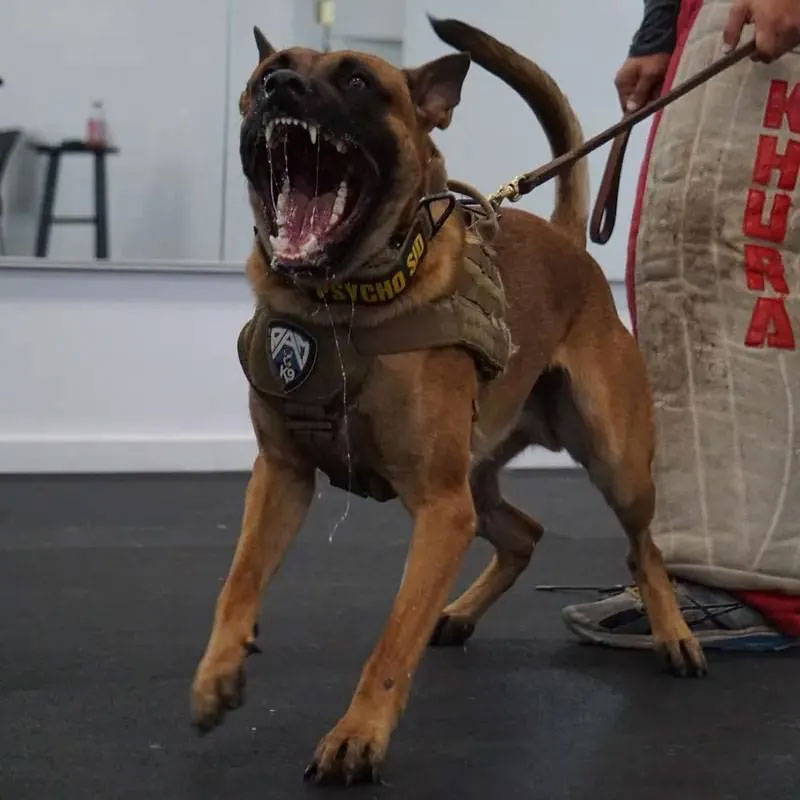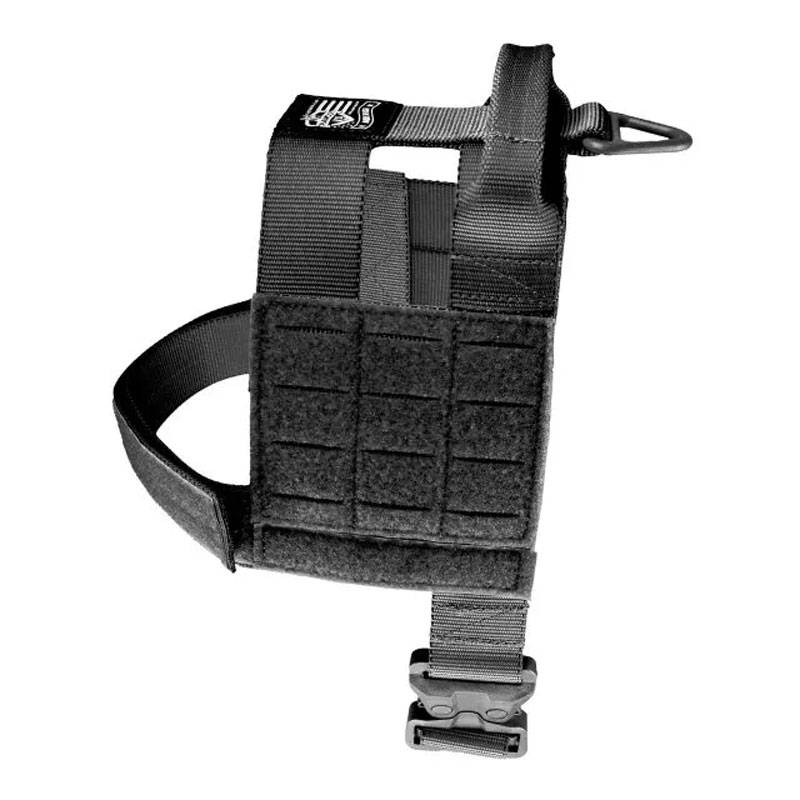 Main Benefits:
MOLLE strips to attach general purpose pouches
500-lb load-rated polymer buckle
Two VELCRO® strips for ID patches
Best For:
Bite training sessions
K9 training and fieldwork
Starting at $299.99 (Frame Only)
Designed to be the ultimate K9 harness for all working and service dogs, the Nomad Interchangeable Harness System (I.H.S.™) provides a variety of styles, looks, and functionality through a single versatile unit. Rather than purchasing multiple dog harnesses for various needs, the Nomad I.H.S.™ can be customized using interchangeable parts. Made with the highest quality, tested-and-approved heavy-duty hardware, this line is the best choice for K9s who regularly work in a variety of conditions and environments.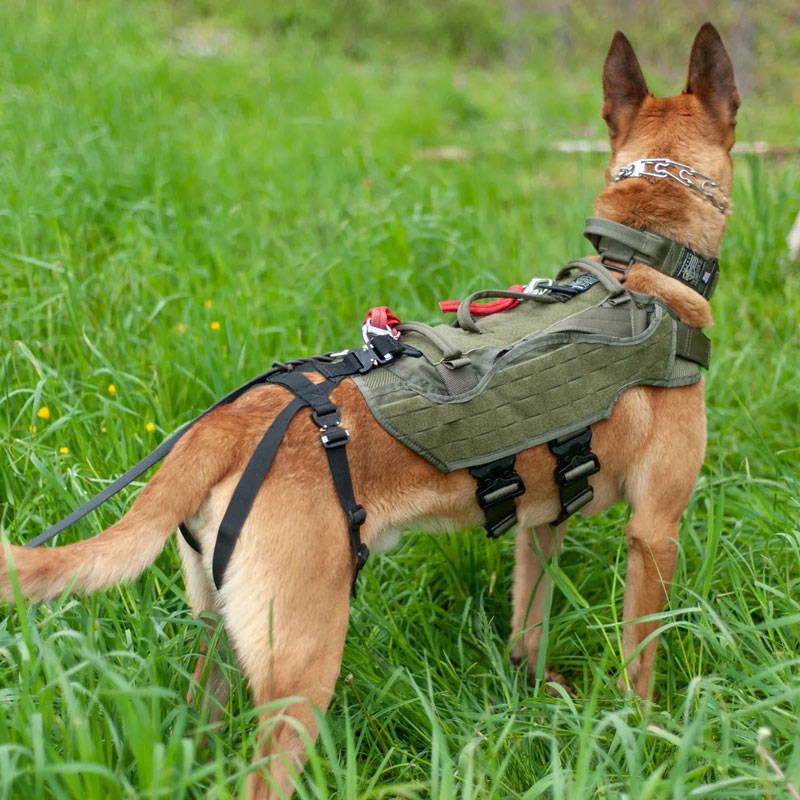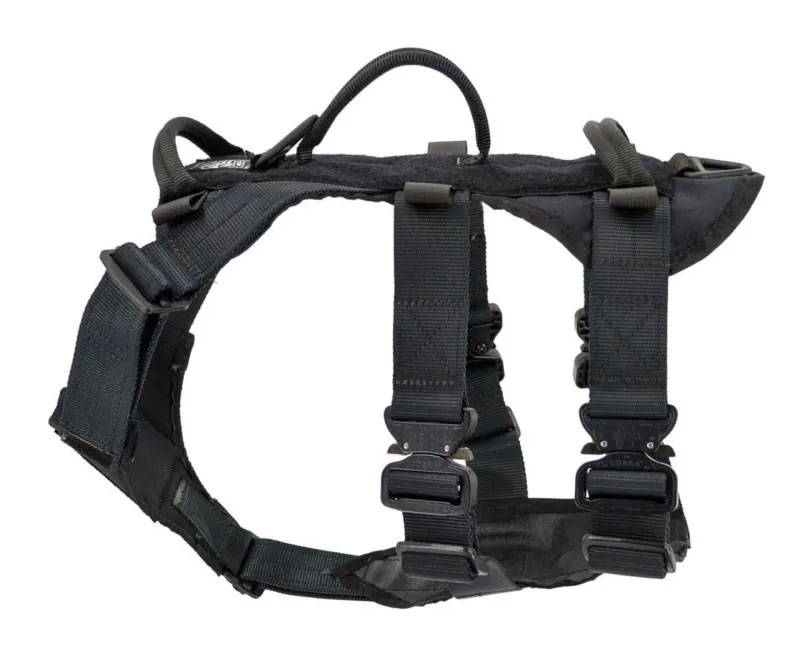 Main Benefits:
The most versatile and functional harness design available
Easy to customize to your dog's needs and working conditions
Cost-effective when compared to owning multiple dog harnesses that only serve a single purpose
Best For:
Buy Your Dog Harness from Ray Allen Manufacturing
No matter which option you choose, we guarantee that the best dog harness for your K9 will always be found at Ray Allen Manufacturing. For over 73 years, we've worked tirelessly to engineer the highest quality, handcrafted, and American-made gear for both handlers and their K9s. Check out our full line of dog harnesses today!
Want to learn more about dog harnesses? Check out our Ultimate Harness Guide! It teaches you everything you need to know before buying your next dog harness.