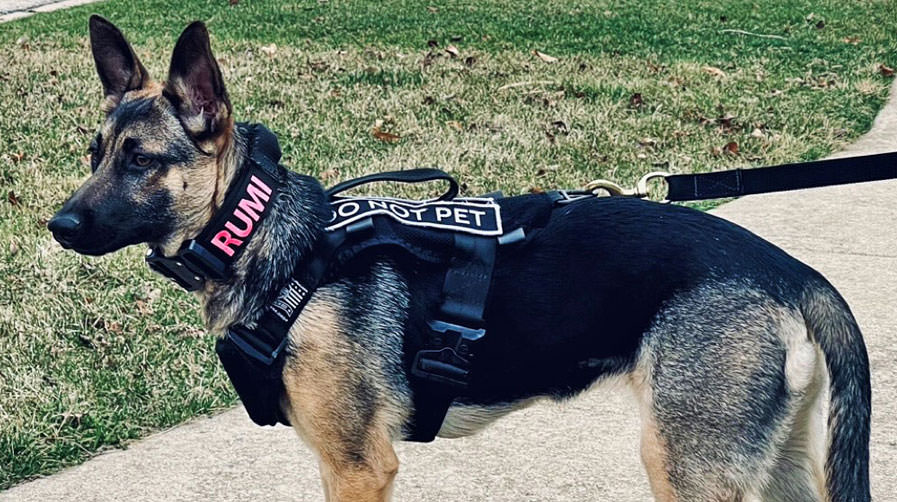 Kimber Harris & Rumi
Handler // Service Dog

"I was diagnosed with Stage IIIA breast cancer in December of 2019. After years of chemotherapy and radiation treatments, along with countless surgeries, I was recently declared NED. I've been feeling cautiously ready to 'get back to life.' I needed accountability to maintain activity. My kids and husband have been put through the ringer, watching me walk through Hell and it was finally time for a sweet puppy to lift the spirit in our home.

I have always loved the BM breed and knew that having a Mal puppy would force me to become active again and -hopefully- happier. We got our sweet Belgian Malinois from my dear friend's rescue "Biggie Paws" in Wisconsin. We got her in January, and immediately Rumi Mensa Harris fit right in with our family.

In the beginning, there were moments that I had to let Rumi know - nipping at the kids was not going to be acceptable. Luckily, using the Ray Allen K9 collar we chose, making corrections in her behavior was a breeze. Her brilliance is astounding; I swear we teach her something once or twice and that's it—she's got it. Ru loves her hooman babies now, she is so sweet and gentle with them and also VERY protective of them in the presence of strangers.

My husband, the one that was hesitant about adding a dog to our family for very plausible reasons, has found his new best friend. And I am sublimely happy!—I love being able to see my kids smiling again. They are learning the importance of caring for others and the importance of respecting animals. An added bonus is they all tire each other out, as they run through our house, like a little pack. We are very proud of the responsible little dog owners they've become.

We love our girl so much, and having the best gear for her breed was extremely important to us. She just turned six months (last week) and has a very strong prey drive anytime we are outdoors. After a "rabbit hole" of research, we decided that Ray Allen K9 was where it's at, as they produce high quality products and take into account the tendencies of the breed. For example, high prey drive often means strong pulling when using a lead — Ray Allen K9 has items like extra padded collars and harnesses with rings at the very back, all efforts to reduce esophageal pressure, as BMs tend to be prone to esophageal damage, because of their drive.

Most important to me was finding products of high quality and durability.
I like that the tactical line takes into account the length of time that many dogs will be wearing some of these items. Everything is padded for comfort in the right places, there are strong nylon handles on some pieces for quick, close handling, substantial and breathable mesh in other areas to ensure cooling, and loop Velcro in places to display their super strong hook Velcro patches. Rumi Mensa Harris is a wonderful girl and we are so blessed to have her to brighten our days! She looks super cute and official in all of her Ray Allen K9 gear."

Their Gear: "We love everything we've purchased! Absolutely love her collar with the heavy duty clip closure and the handle. A handle is very important to me with the little kids, just in case a correction is needed. Also, we LOVE the Bungee Leash! We got the black, 8', with gold hardware. It's perfect for our neighborhood walks. The Guardian Harness fits her perfectly when tightened to the smallest settings, at the moment. It's definitely something that can adjust pretty well. We've adorned her with a couple patches, as she is still in the learning phase and is intended to be my ESA. The quality of Ray Allen K9 is worth every cent, I know the pieces we chose for her are going to be her forever pieces."

Submit your K9 Spotlight here for a chance to win next week!
Find our previous K9 Spotlights here.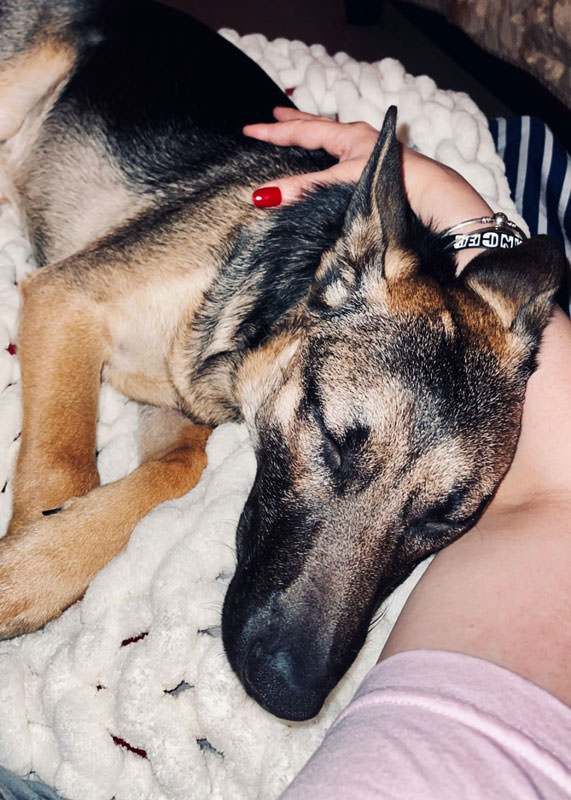 Read More