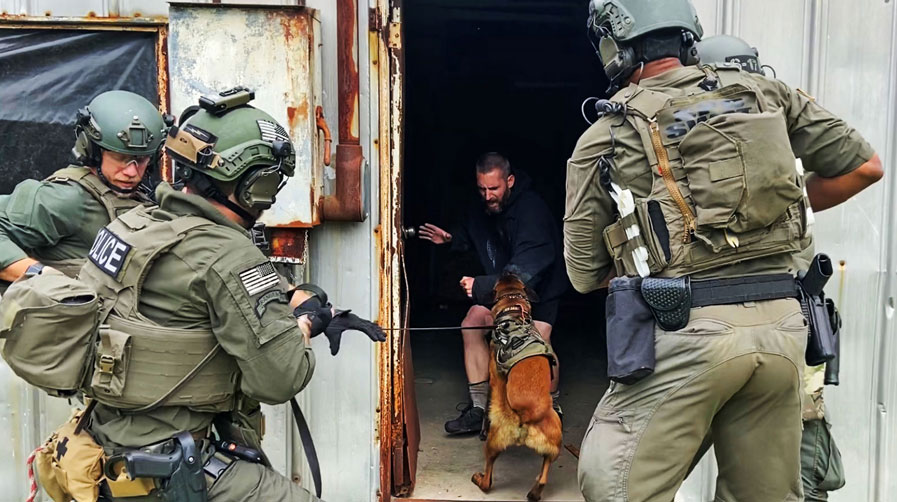 Jon "Chris" Lindsey & Jas ("Hauss")
MPC Handler // K9 Patrol & SPD SWAT
"I had the honor of serving as a Multi Purpose Canine (MPC) handler while a member of the 75th Ranger Regiment (1/75.). After I left the Army, I spent much of my free time decoying sport dogs and training an assortment of pet dogs with Georgia Pine K9 (GPK9). I ended up assisting Gavin Dwyer, the owner of GPK9, in training a police K9 prospect that had not quite earned a name at the time. This dog eventually earned the name "Jas."

Jas is named after SGT. Leandro Jasso, a Ranger Fire Team Leader, that was KIA on November 24, 2018 in Afghanistan. SGT. Jasso was one of Gavin's best friends and they served together while assigned to the 2nd Ranger Battalion. The uniqueness of the size of the special operations community is that I had actually attended Ranger School with Leandro back in 2014. Gavin and I both knew that Jas was a special dog and deserved to bear the name of an Airborne Ranger in the Sky.

Jas was purchased by the Savannah Police Department in the summer of 2019, and became "K9 Jas". Ironically, I was sworn in as a Police Officer the same month. I continued to volunteer my spare time to the Savannah K-9 unit as a decoy and where applicable, imparted knowledge and skills gained while in the 1/75 kennel, combat, and from the Shallow Creek Kennels instructor course.

Fast forward to 2021. I became a member of the SPD K-9 unit and the stars aligned. K9 Jas and I were paired as a team. We quickly completed our narcotic and patrol certifications and were on the road. Within our team's first month, we played a pivotal role in a case leading to the seizure of over 9 lbs of Mexican Meth and a kilo of Fentanyl and a street apprehension. K9 Jas also serves as the SPD SWAT dog where he serves as a valuable de-escalation tool and non-lethal force option.

At only 3.5 years old, K9 Jas has an impressive career ahead of him. I am just happy to be along for the ride. Without a doubt, K9 Jas lives up to the name he was given. "One for the Airborne Ranger in the Sky" Rangers Lead The Way!"
Their Gear: "Our team's favorite piece of Ray Allen gear is easily K9 Jas' Nomad Patrol Harness. Whether it's tracking or SWAT operations, I know K9 Jas will be squared away in his Ray Allen gear."
Submit your K9 Spotlight here for a chance to win next week!

Find our previous K9 Spotlights here.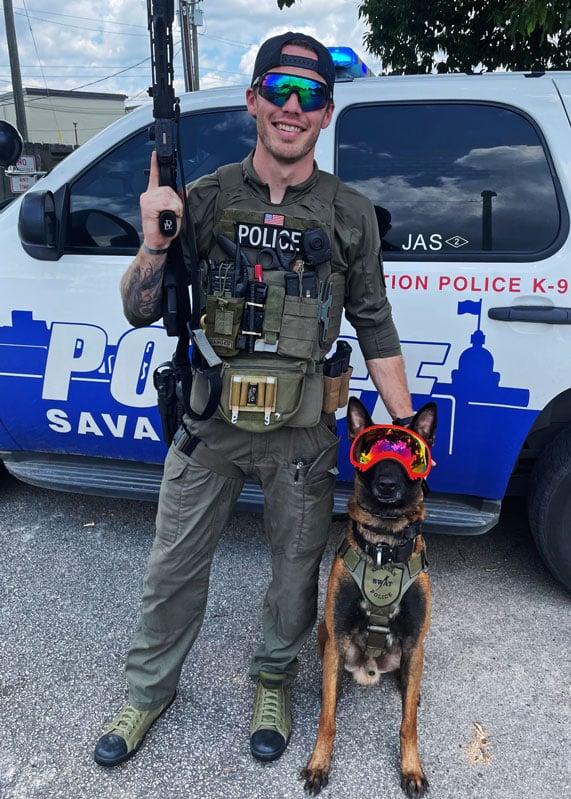 Read More