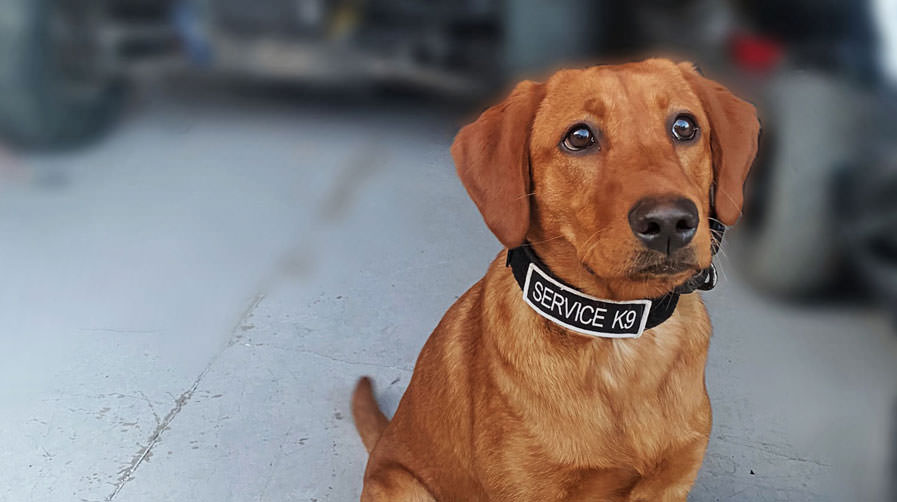 Amber Malloy & Cholla
Handler // Service K9
"4 years ago I suffered a scary seizure that sent me to the hospital. My face basically broke my fall. Breaking my nose in three place, along with other injuries. Soon after many tests were taken, and I was diagnosed with epilepsy. It was apparent that I have been experiencing petite mal seizures all these years, creating difficulties that I was unaware of. Since my seizures are what's called "absent seizures" this can cause many ticks, disabling me from doing my job accurately on some days.

It was 10 months ago that a friend from many years back (who now trains dogs) offered to find & train me the right dog. Fast forward to present day and I sit here writing this with my service dog Cholla (Ch-oy-ya) by my side. Cholla is a very busy, red Fox lab, service dog. And, although she has the energy, she is typically having to keep up with me, since I'm on the go constantly.

I manage an off-road race team. So I'm constantly traveling, in the public eye and hardly ever sitting still for long. Cholla is by my side to calm me, distract me from ticks & give me a focus, whenever I am feeling off from a seizure occurring. Having Cholla by my side wearing her Cobra Buckle Collar with her service patches is so helpful. The collar is thick and visible. Plus (most importantly) very durable. And being that we are so active this is a key aspect for me. Her Icon Air Harness is also very durable, breathable and very helpful with its handles.

At times when I find my equilibrium off due to a seizure, I rely on those handles to grasp and regain my balance. And knowing that I can trust that the vest is securely attached to Cholla, gives me a sense of relief. Her and I are a team. And I want the best gear for her. She deserves it for being so loyal and unconditionally loving to me.

Thank you Ray Allen for building such great products that I feel confident in using and gearing up my fur-ever partner with the best!"
Their Gear: "Ray Allen Cobra Buckle collar & icon air harness for the durability most importantly! We are constantly on the go, in many elements. So this is crucial in the gear we choose.

Submit your K9 Spotlight here for a chance to win next week!

Find our previous K9 Spotlights here.
Read More