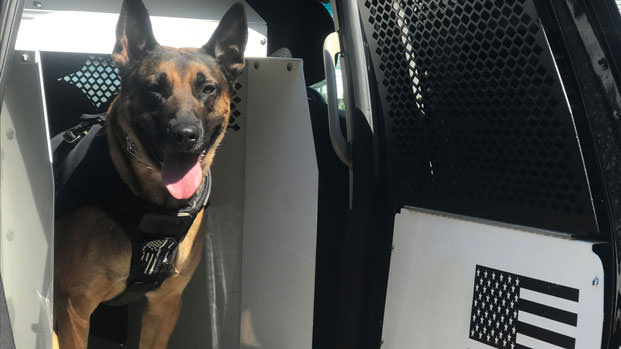 Canine Liability 360: REASONS WE GET IN TROUBLE
by Bill Lewis II
A K9 handler's leash should ideally be wrapped around the handler's waist and secured when not being used so it can easily ride above the gun belt, not interfere with access to the handgun and other equipment on the gun belt, and be readily accessible when needed.
If not wrapped around the waist, the leash should be stored in a pant pocket where it can be quickly retrieved by the handler. Handlers should avoid wrapping a leash around their neck or shoulders to avoid getting in trouble as it may provide an advantage to a suspect if the suspect quickly grabs it during a planned or spontaneous physical attack or altercation. A leash shouldn't be wrapped around the handler's neck making it available to be used like a hangman's noose.
The control of an easily-accessible or improperly-secured leash around the neck or shoulders by a motivated suspect who wants to escape and avoid jail can easily create an unanticipated loss of balance for the handler during a physical encounter. Easy access of the leash can allow the suspect to potentially control the handler's initial movement and direction prior to an intervention by or even during a deployment of the police dog.
I know many handlers are set in their ways and will never seriously consider changing the location of their leash from around their neck - "because we've always done it that way" and the fear of doing something different - so I can only suggest you think about it as you weigh the options and potential consequences before something bad happens. After I originally shared this tip in 2013, I received a few emails from a handler that read:"Your article is completely accurate. I won't make that mistake again. I was always taught that it was okay to have the leash around my neck as long as it was tucked into my uniform. I found out the hard way that it doesn't make a difference whether it is tucked in, or simply draped. In a fight, it becomes easily accessible to the suspect. Since this incident [briefly described below] I keep my leash wrapped around my waist."
Here's an excerpt from this handler's report involving his incident;
As [the suspect] squirmed around underneath me, I could feel him pushing away from me. The next thing I felt was [the suspect] grabbing a hold of my K-9 leash that was draped over my neck. I could feel [the suspect] pulling the leash and pulling me down toward him. I initially thought [the suspect] was just trying to use the leash to pull himself up and get away from me; however, at one point, [the suspect] crossed the leash in front of my neck and throat area and began pulling me in. I believed this was an attempt by [the suspect] to try and choke me with the leash. I was able to throw two separate elbow strikes to the side of [the suspect]'s head; however, those elbow strikes appeared to have little to no impact. As [the suspect] continued to hold the leash and pull down on the leash, pulling my neck and head closer down to him as he remained lying on his back underneath me, I took my right forearm and began to place it across [the suspect]'s neck as well as his throat area and began pushing down in an attempt to get him to release his grasp from the leash. As I pushed down on [the suspect], he let go of the leash and began rolling over to his stomach. I was then assisted by [Officer] who gained control of [the suspect]'s legs as I gained control of his hands as he rolled over onto his stomach. [Officer] and I were able to take [the suspect] into custody without further incident.
Take care, be safe and don't position your leash like a hangman's noose...
Bill Lewis II is a retired sergeant from the Oxnard (CA) Police Department who teaches the 2-day "Canine Liability 360" class. He is also a HITS instructor and author of the "Reasons We Get in Trouble" periodicals. His web site is located at http://tacticalk9usa.com
Read More