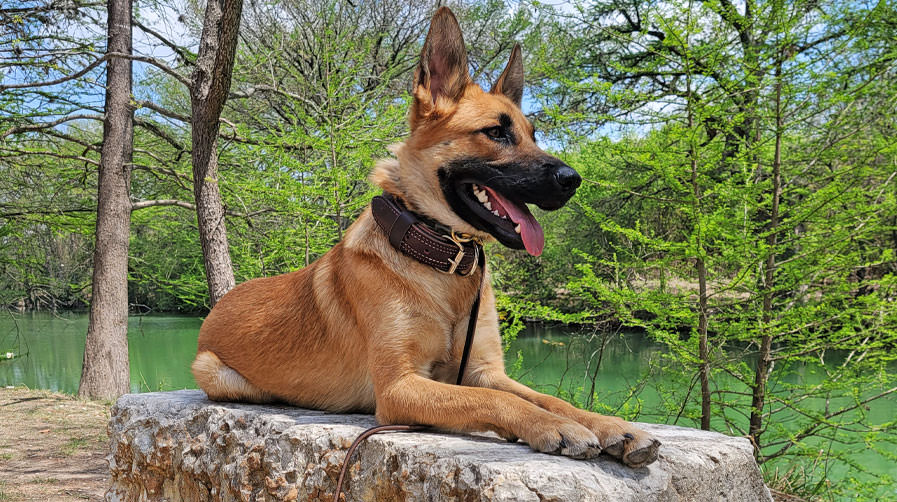 Matthew "Bo" Boheler & Maggie
K9 Handler & Trainer // Detection Dog (in training)
@matthewboheler
"Maggie (a 2yr old Shepinois) came into my life on December 20, 2021. I rescued her from a kill shelter where she was waiting to be euthanized - weighing only 35 lbs at 19 months. Her trauma from the previous owner really put a damper on her sweet soul.

I am a combat vet of Afghanistan and I unfortunately suffer from PTSD, to a degree, so I immediately began training her to be my Service Dog once she was nursed back to health. it wasn't long before she started gaining her confidence. We both leaned on each other to get through the memories of our past.

As time progressed Maggie showed how quick she was able to learn each new task, with an eagerness to constantly work. She is now my wingman and joins me wherever I go. Aside from her service work, we began training with the help of professional handler, and good friend, on tracking and other related tasks.

By working with Maggie on a daily basis, I have decided to pursue a professional career in working with K-9s. I will be attending the AK9I Training Academy Patrol/Detector Dog Trainer Course in upcoming months. My K-9 partner, Maggie, has made a tremendous impact in my life and for that I am truly grateful."

Their Gear: "Our favorite Ray Allen gear is the Ultimate Padded Leather Collar and the 6' Oiled Leather Leash. We use both items daily in our training routines as well as just casual day-to-day life. The quality of the leather of both products is pristine. I have no doubts that these items will last for countless years to come. Each item has unique features that Maggie and I appreciate.

The padding in the collar provides comfort and functionality without causing loss of fur on the neck. The leash is soft and comfortable in my hand without giving up on quality. I recommend this specific item because of the braided ends as well as the 0-ring on the handle. Very pleased with our Ray Allen products!"

Submit your K9 Spotlight here for a chance to win next week!
Find our previous K9 Spotlights here.
Read More