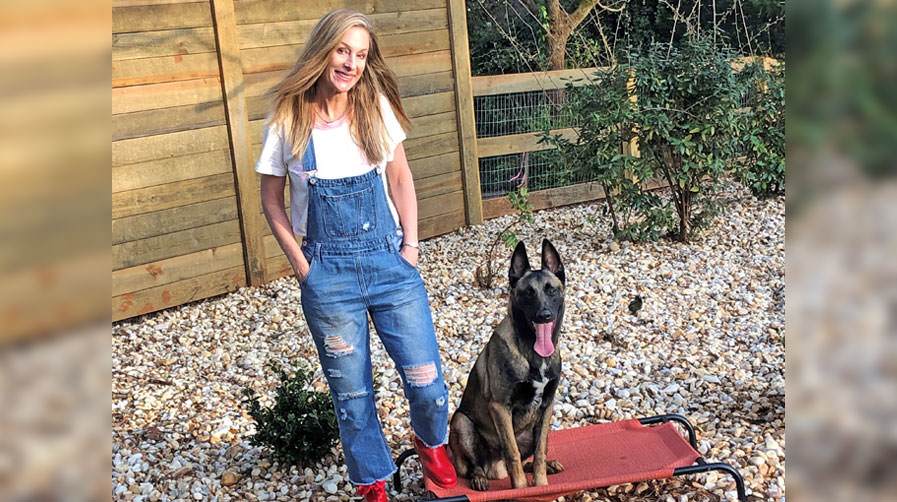 Kristen Berry and Pilot
Dog Trainer & Handler // Medical Service Dog
https://pbdogtraining.com/
"As Pilot's trainer and handler, I set to work immediately laying his foundation for obedience. Since I already have a high level of stamina and patience, I figured I could easily handle a Malinois. And luckily, I was right!

I'm proud to say that Pilot is excelling in obedience, tracking, and bite work through the sport of Schutzhund, (also currently known as IGP). I've also rounded out Pilot's work with some fun in dock diving this summer.

I was recently able to join a Schutzhund Club with a president who has titled numerous dogs and runs an organized and resourceful club. The singular most important aspect of what I've learned in IGP is the that I have to slow down and pace myself because titling a dog is a journey, not just a destination. I've learned that it's easy to miss the true beauty of the process if I don't take the time to "breathe" and enjoy every little moment of this sport.

In the mornings, Pilot and I wake up early for tracking. It's just my dog and I when I am laying track on some grassy field still fresh with dew. It's the quiet still of the morning when most creatures and humans are still asleep, that I feel most connected to Pilot. Nothing starts the day better than a few successful tracks!

On Thursdays and Saturdays we go to IGP club where everyone has the same goals and mindset. Pilot is consistently instilled with the ability to make decisions that bring him rewards. I feel lucky to have gotten such an incredible dog.

In the same way that life itself involves trial and error in order to find ourselves, we often stumble on something that grounds more solidly than we ever could have imagined. For me, it's training working dogs and especially this little "Pilot" (after raising a REAL pilot)!

These days, through a new series of "trial and error", I'm navigating the nuances of getting Pilot titled. He's a bundle of energy and worth every minute of it! We look forward to trial day...with no errors (finger's crossed)."

Check out last week's post to learn how Kristen began her journey as a trainer and handler, in part 1 of her K9 Spotlight!
Their Gear: We love training in the Ray Allen Biothane Harness (because it's the strongest), and use a Dogtra E-Collar (because they are great and so easy to use), and a Herm Sprenger prong collar (because it lasts forever!).
Submit your K9 Spotlight here for a chance to win next week!
Find our previous K9 Spotlights here.
Read More