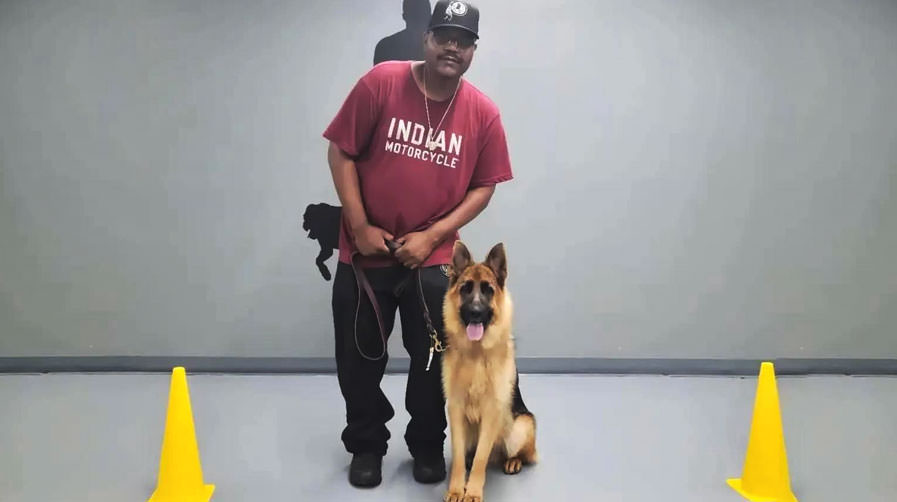 Jeffery Anderson & Mr. Whispers
Military Police // Service Dog
"Living alone and suffering from PTSD along with other muscular skeletal injuries, due to my military service, I struggled to find happiness and peace. In July of this year, things changed. My brother agreed to rent his house to me on the condition that I live with and take care of Mr. Whispers, the GSD that my brother gifted me.

Mr. Whispers is currently 10 months old and has already learned obedience basics. He obeys commands to heel, sit, come, stay, etc. Whenever I'm feeling down he has a natural tendency to comfort me, calming my anxiety and bringing joy. His companionship, and the partnership we have, has given me purpose and hope even when I feel not worthy of being blessed with such a wonderful dog!

Saying that he has enhanced my personal life wouldn't be doing him justice!!!

As he approaches a year old in October, my goal is to step up our training. I'd like to advance his obedience skills and ease him into personal protection basics, with hopes that our loyalty to one another strengthens our bond. Naturally, as a GSD he is very protective of my residence and has shown that he'll defend me from people and animals that I don't trust.

I look forward to the work ahead, and couldn't be happier to share the journey with Mr. Whispers."

Their Gear: "The entire Puppy Training Kit has been a huge help for a team just getting started. It has definitely given me an edge during my training and imprinting!!!"

Submit your K9 Spotlight here for a chance to win next week!

Find our previous K9 Spotlights here.
Read More