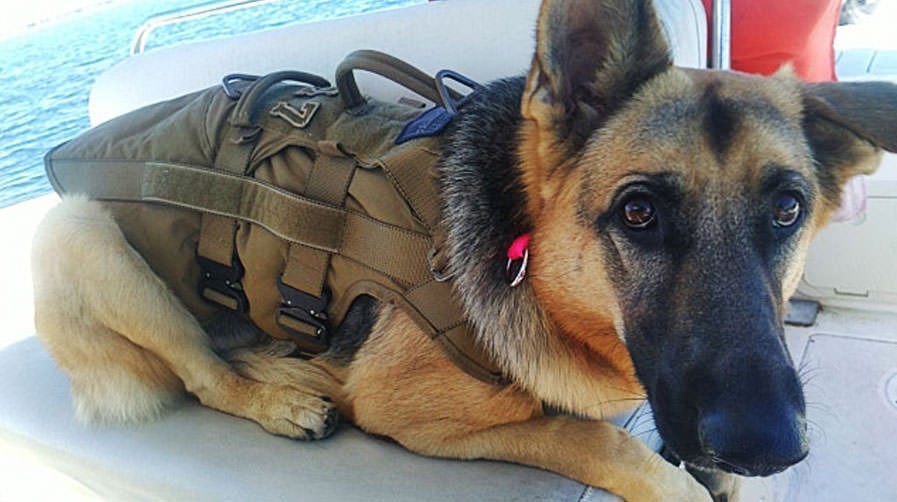 Andrew Sheets & Fiona Roxette
K9 Handler // Working Dog

"Fiona Roxette was a fluke. My wife considers her a "unicorn", and not just because of her one ear. I have been wanting a partner to be on the boat with me since our then 16 1/2-year-old Aussie mix (Rufus) was no longer able to venture out with me anymore.

In Aug of 2021 we went to the local shelter and while walking past many possibilities, we came to the last cage on the first row and there she was in the back of the kennel cowering. We learned that an 80-year-old couple had just relinquished her 3 hours before, because she was just too much to handle. She was 10 months old at the time, confused, scared, and a bit crazy (for good reason). Yet you could see her sweetness through her eyes, she just wanted love.

We took her home that day and it has been quite the learning process. However, here we are 5 months later, and she is amazes us with her smarts. We are together 99% of the time and having Rufus around (before he passed) taught her to board the boat and she is a whiz at it now.

She is so eager to learn, going on the boat with me every day, and it didn't take her long to learn not to bark at the nice people we were helping. It's not all work, though, as she gets to swim a lot in the bay or the freshwater springs and we play frisbee every morning after our run. I am looking to hone her skills - working with a trainer we found, who will be working with both her and I. We want her to be as amazing as she can be just like the other dogs that are on this site. Today she is keeping warm in her Ray Allen Nomad Harness with the fleece Woobie Jacket."

Their Gear: "Both the Nomad Harness and Woobie Jacket combination are great. I had purchased a harness through amazon (China crap), was flimsy and it kept getting sloppy and she slipped out of it a few times. This vest from Ray Allen is very well made and it stays in place. It felt heavier and solid, and the most important thing is the woobie fits on great and stays in place, and on those few cooler Florida winter days and nights out on the water. I feel good about knowing she is going to be comfortable. The durability won over my wife who winced at the price. She is totally on board now and we both love that these are made in this great Nation - USA."
Submit your K9 Spotlight here for a chance to win next week!
Find our previous K9 Spotlights here.
Read More