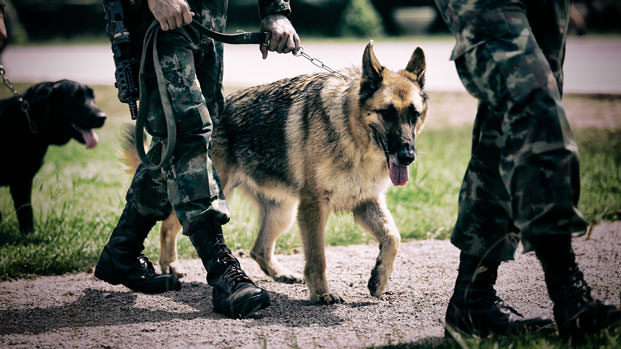 By Tasha Williams
As a veteran, you may be facing a number of physical, mental, and psychological issues as a result of your service. One of the options that you help you cope with such a problem is a service dog. If this is something that you are considering, you may be a little confused about how to get about the process.
Well, there's no need to be. While the procedure can seem a bit complex, this isn't necessarily the case. To ensure that you understand just what this entails, here is what you need to know about getting a service dog:
What Does It Take to Qualify for a Service Dog?
For the longest time, Veterans Affairs (VA) only provided service dogs to individuals with physical disabilities. In short, only people with certain mobility issues could qualify for this kind of support. Fortunately, though, the rules are starting to change.
This is because the military has realized that these dogs can also help individuals diagnosed with PTSD and other mental health issues. For instance, if someone is having trouble leaving their home due to fear or anxiety, they may qualify. The same exception could be applied to a veteran who has difficulty interacting with the general public.
Of course, even with these inclusions, the process isn't too straightforward. The relevant individuals at the VA have to believe that a service dog can benefit your diagnosed issue. Thus, you will only be given approval if a service dog's capabilities and your problems can be matched up.
Keep in mind that most experts will be considering your capabilities as well. They will want to make sure that you are able to care for your dog both now as well as in the future. If you can prove this, there is a higher chance of you being approved for a service dog.
How Can Veterans Apply?
To receive benefits for a service dog, you will need to file an application with VA veterinary health benefits. At this point, you will have to meet with either a mental health provider or another medical expert. This team will be responsible for determining whether or not a service dog will be helpful to you.
If the team determines that you will benefit from a service dog, they will then request benefits from the Offices of Mental Health Services and Prosthetic and Sensory Aids Service. If your benefits are approved, you will be contacted with further information.
Does the VA Provide Service Dogs?
The VA doesn't breed or train service dogs. It outsources this process to other outfits. In the event that your application is approved, you will be asked to contact an agency that has been approved by Assistance Dogs International. It is also possible that you may be passed onto an International Guide Dog Federation accredited agency.
Many of these agencies will provide service dogs to veterans free of charge. There are others that will help veterans raise funds to pay for the dogs. You should be aware that there are often terms and conditions for each organization.
It should also be noted that the VA will not pay for the boarding, grooming, or food for your service dog. You will be directly responsible for this. Thus, you must have the necessary financial background to take care of a dog.
What Does the VA Handle?
The VA does offer some direct benefits for individuals who are partnered up with service dogs. For instance, if it is determined clinically necessary for your service dog to have certain equipment, then the VA will cover this cost. They will also take care of any associated repairs or replacements.
Many of the medical needs of the dog will be billed directly to the VA. This includes any vaccinations that are required once you have acquired the dog. The VA will also need to pay for any charges as a result of preexisting conditions as well.
Now, you should know that there are limits to this policy. For instance, there is a maximum limit for health benefits. There is often a limit to how much the VA will pay for veterinary care within a certain period. If your dog's needs exceed these limits, then you may have to pay for the bills out of your own pocket.
What Requirements Do You Have to Meet?
You do have to meet some requirements before the VA will cover your dog's bills. Remember, service dogs provide specialized help – this is what distinguishes them from other pets. Thus, you will need to prove that your dog is capable of helping you in a specific way.
In order to do this, you and your dog will have to undergo training sessions. You must do so at an organization that has been accredited by the ADI or IDGF. You have to complete the training successfully. It is only once you provide a certificate that the VA will accept the future charges.
Some organizations also require you to continue visiting a therapist, before and after you receive your service dog. Therefore, the exact terms and conditions will depend on the agency that you have partnered up with.
How Long Can It Take to Receive a Service Dog?
As mentioned, once your application process is approved, you will be partnered up with a specific organization. So, the time period until you get your service dog will largely depend on them. As a result, there may be quite a waiting period.
If you are fortunate, you may receive a service dog within a few months' time. Otherwise, it is not unusual to have to wait for upwards of a year or so.
This is what you should be aware of regarding the process of getting a service dog. As you can see, it is a lot easier to follow the steps once they are broken down. Of course, the process may not move as quickly or as smoothly as you would like. Nevertheless, it is certainly a good idea to get the ball rolling as soon as possible. This will certainly aid with your recovery.
Article written by Tasha Williams. Tasha has been training service dogs for over ten years. During this time, she has also been instrumental in pairing service animals with their humans. As such, she has had the opportunity to work with veterans who have been approved for service dogs.