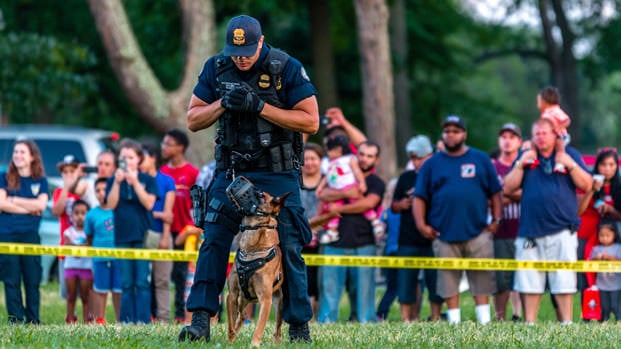 by Shawn Rosner
Ahead of the 11th Annual K-9 HITS Handler Instruction and Training Seminar in San Francisco, California in August, I wanted to provide some canine public relations information and ideas and some helpful tips for establishing a charitable fundraising organization for you canine programs.
I love being a canine handler. My canine partner(s) and I have done our share of being at the tip of the spear, hunting and apprehending criminals with my canine partner, taking illegal drugs off the street. This is certainly a vital role canine handlers and their valiant partners play.
However, an equally vital role is being as involved with the communities you serve as possible, by assisting with and attending public demonstrations, educational events and presentations. As American law enforcement struggles against the extreme negative elements in society and in the press, which affects our relationships with our communities it becomes vitally important to go greet people with our partners. The positive relationships you form which will eventually translate to support and respect for your agency, and the impact you can make on your community cannot be overstated. Eventually it will lead to positive fundraising opportunities as well.
There is wisdom in becoming an Entertainer, a Promoter, a Showman, Organizer, Impresario, Carnival Barker, Pitchman, Master Of Ceremonies, and even a Comedian. And the perfect soul to help you with this endeavor is your dog.
Canine demonstrations, educational events and public relations are often the most under-valued, under-used, and most criticized aspects to a canine program.
People want to know about your canine program. These events create natural opportunities to grow your unit, impact your community in a positive way and potentially assist with the funding of your canine program.
Canine units are a "special" special team. Why not use them to connect positively with the community?
Demonstrations are the natural bridge between the community and your agency. The message your canine events send is important and should be carefully crafted.
How many of your agencies have a full time 24/7 SWAT team? How many of your agencies have a full time 24/7 Air Operations unit? How many of your agencies have a full time 24/7 Search & Rescue? How many of your agencies have a full time 24/7 Mounted unit?
Most agencies have canine units on duty 24/7 or they are scheduled to maximize their availability to get as close to 24/7 coverage as possible. Canine units have immediate potential for liability for either use of force or accidental liability.
Although our society has become quite litigious, agencies can minimize potential liability by selecting high caliber individuals to be canine handlers, evaluating and selecting well balanced dogs and having an appropriate policy which allows you to develop a highly specialized, professional unit. It is important to recognize, balance and utilize both.
Demonstrations are a bridge between the community and your agency. The vast majority of the public have a natural love for animals, especially dogs. People can almost always relate to having a dog as a partner, friend, and family member.
I believe dogs demonstrate every day, all the finer traits we'd like to see in ourselves, asking for virtually nothing in return. Your demonstrations are multi-faceted, public requested opportunities to foster goodwill. They can be and should be interesting and fun for the audience. Talk about why we do what we do.
Emphasize the personal relationship with your partner. I am continuously amazed how many working dogs sleep on the couch, bed, have their own room, etc.
Include historical information (i.e., canine/human partnerships in military and law enforcement applications since 1888), scientific explanations (i.e., dogs nose and neuro science), specialized equipment used (i.e., show and/or demonstrate their vest, collars, temperature/deployment systems, etc. and explain functions and importance), specialized training, locations and conditions, caring for your dog (i.e., first aid kits, grooming, etc).
Emphasize the dogs as a searching and locating tool. Searching for evidence, narcotics, explosives, lost children, lost "bad guys." An apprehension bite(s) should be used as the finale. Talk about percentages in time savings and effectiveness assisting their human partners. There is increased officer safety as a result of the dog's courage, industriousness, honor, loyalty and gallantry. An agency benefits from monetary savings in overtime, loss due to injuries, etc.
Static Displays are a naturally great opportunity to talk with the people we serve. The message presented by your canine unit should be one your agency is proud to support.
Although I am not completely against it, use caution if you allow civilians to take uncontrolled bites. A school principal with blood running down his arm, kids traumatized, and legal troubles are all way more than problematic.
Call offs are great if it all goes well. It doesn't look professional if it doesn't work. It will take additional education, explanation and even some tap dancing if it doesn't work out. You never know who is watching, it can create training and certification problems and take a lot of training to overcome the dogs desire, thinking that he can get away without calling off.
Don't make each demonstration a new event, rather set a routine so the dogs can get adjusted to it. Petting time for the dog (yes, allow people to pet your dogs). People want to see an apprehension bite. Make sure it's polished. Consider showing other work like odor work and obedience.
There is a belief in the industry if your dogs are social and can greet the public, they will be or become: Soft, docile, mellow, lacking firmness or strength unable or not interested in preforming other duties, risk being unable to apply a bite apprehension during an appropriate use of force/officer safety incident.
This is patently false, it limits your relationships with the community and will cause missed opportunities to grow financially, benefiting your canine program and your dogs.
Events are only limited by your imagination and create fundraising opportunities for your program, partnerships, or 501(c)3's. Many people will donate to an animal cause before they will donate to an equally worthy, important human cause.
Incorporate ownership within your unit. Canine handlers need to be a step above. There is constant liability for use of force decisions. Have detailed screening and selection standards. Monitor records check community oriented policing and proactivity.
Handlers should be rated on their involvement in public demonstrations, presentations and educational events. Consider having public relations in your policy. A handler's time for demonstrations should be budgeted. If there are more requests than money, choose events carefully to be mutually beneficial to the community and the agency.
Some of your greatest impact with the community is made during static displays, speaking with the public. Make every effort to increase the number of events that can be scheduled. Try to schedule some of the smaller, more flexible events while a canine handler is on duty. No event should be considered too big or too small. Even very small events, including impromptu talking and petting while on duty will have a far reaching impact on your relationships with the community.
Small, impromptu, call clearing meetings or an event with 2000 people in a stadium may equally contain that one person with a unique connection to benefit your agency and the community. Canine Event Types are career fairs, community fairs, safety fairs, state fairs, harvest festivals and specialized law enforcement recruiting.
Why should you consider creating a K9 Non-Profit? There are many benefits such as new and replacement dog fundraisers, purchase of safety & working equipment, after retirement medical care, cremation and burial assistance. Donors and benefactors are able to claim donations on their taxes.
Memorializing our hard working canine partners/friends is the right thing to do and the public gets behind these programs. So you are interested in starting the process, now what? First, create and name your non-profit. Determine what type of non-profit you wish to start. Choose a name for your organization. Visit your state filling office directly or their website to check name availability.
Formulate your mission statement. If possible, hire an attorney and/or tax consultant to assist you in filing your articles of incorporation. Consider asking them to donate thier time towards your new non-profit.
Develop a financial structure and apply for federal, state and local tax exempt status. Publication 557 will determine if you need to complete a form 1023 or 1024; forms must be mailed to the IRS. Organize your corporation after receiving your letter of determination.
Guidelines: Have an odd number of board members and attend regular meetings. Keep meeting notes and accurate bank account information.
Your canine partners are willing to do just about anything for you without asking for anything in return. Your program and agency has unlimited potential to get financial support, as well as generate interest in the non-profit organizations that support the dogs and handlers.
Dogs – Truly, they are the best! Thank You!
Shawn Rosner has been with the Placer County Sheriff's Office in Auburn, California for 20 years. He is a Deputy Sheriff II, a Canine Specialist/Handler and was a Canine Handler in the U.S. Air Force. For the last 10 years Shawn has been a guest lecturer, speaker and instructor.
• California Narcotics Canine Association Training Institute
• K-9 HITS Handler Instruction & Training Seminar
• Western States Police Canine Association
• California Peace Officers Association, Team Instructor, Canine Program Mgmt 2008 -2016
• 2009 Employee Awards and Recognition Program recipient of community service excellence, sustained effort (Canine)
• Dog & Handler Trainer since 2010
• Agency Canine Trainer for Personnel